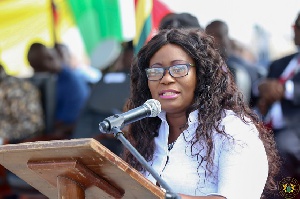 Assembly members of the newly created Krowor Municipal Assembly (KMA) are accusing Member of Parliament for the area of obstructing operations of the assembly.
The concerned assembly members say Fisheries Minister, Elizabeth Afoley Quaye has stopped all their attempts to conduct elections for a Presiding Member for the new assembly.

The MP is allegedly supporting a certain Nii Shikpi Laryea who is holding himself as the Presiding Member for the assembly.

"Since 15th of March the assembly has not met as a body, and the main issue is about the election of a presiding member," a concerned member of the dysfunctional assembly said.

The MP's candidate is said to be presiding member for the recently dissolved Ledzorkuku-Krowor Municipal Assembly.
"When you look at the Local Government ACT, Section 17(1), it says that each assembly is supposed to elect a presiding member from the assembly. Which means that after inauguration, the Krowor Municipal Assembly is supposed to elect a presiding member but the funny aspect of the whole thing is that this gentleman has the support of the MP," he added.

Another member of the assembly also told Starr News that "Nii Shikpi Laryea has sent the assembly to court with the support of the minister and that is the problem now. We were supposed to meet last Tuesday for the endorsement of the Chief Executive but the court injunction will not let us and it is affecting our work."

The President has announced a candidate for the position of Chief Executive for the Municipality but his confirmation according to the assembly members has been deferred until further notice due to the Minister's interference in their operations.

The assembly has not been functioning for the past five months according to the concerned members.