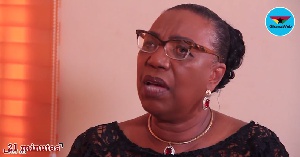 Contrary to some assertions that the opposition NDC was suffering an internal crisis due to infightings, former Minister for Justice and Attorney General and member of the party, Betty Mould-Iddrisu in 2018 indicated that internal fighting within the party was nothing new.
According to her the NDC party was not broken as internal squabbles within a political party happens occasionally.

Read the full story as first published by mynewsgh.com:

Former Minister for Justice and Attorney General of Ghana Mrs. Betty Mould-Iddrisu has observed that the internal fighting within the opposition National Democratic Congress (NDC) is nothing new.

She however states that it does not suggest the party is broken as many are portraying, indicating that internal squabbles within political parties happen occasionally.

'We have a Founder, an active Council of Elders, a National Chairman and Leader, a Functional Executive and National Executive Committee. All these bodies and persons meet and run the NDC on a day by day basis. I know because I am at the party office almost daily. Surely, there are disagreements sometimes publicly and others privately held and settled one way or the other. That is politics!
The NPP had no National Chairman or General-Secretary but they won a general election in 2016. It was without doubt one of the fatal flaws of our campaign: believing the NPP's internal power struggles irredeemably destroyed its chances of winning a general election'

According to her, this is not the first time there have been disagreements in the party citing instances where there were splinter groups yet the party emerged stronger and went ahead to win the 2008 elections.

In response to recent upheavals in the party, she said: "As a party, the NDC is currently poised to implement the recommendations contained in the Review Committee Report (popularly known as the Kwesi Botchwey Report). We must not be distracted from this course and lay the foundation for re-energizing our over 22,000 branches nationwide which are the base on which our umbrella sits and covers us all. We are going to hold our branch elections before the end of2017. Thereafter in 2018, we intend holding the constituency & regional elections paving the way for our national congress to be held by the end of 2018 to elect our flagbearer and other national officeholders"

The National Vice Chairperson of the NDC said the New Patriotic Party's (NPP) government since assuming office has been dramas, persecutions, intimidations, threats to the rule of law and many more social, economic and political aberrations which are occurring almost on a daily basis.

"These acts are shocking and brazen coming from a party that professes to be apostles of democracy and defenders of the rule of law. For those of us old enough to remember, these happenings are echoes of politics of Dr KA Busia & ceremonial President, Edward Akufo-Addo's 'Apollo 568' saga in which 568 public and civil servants were "sacked" by them. She said it took the law courts to restore dignity and stop their actions in 1969".