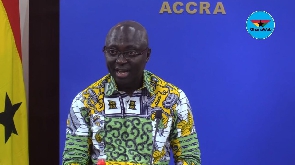 A US$200m World Bank-sponsored Greater Accra Resilience and Integrated Development (GARID) project, which will provide long-term soft credit to government to address drainage and flood management infrastructure improvement in the capital city, is expected to commence in October.
According to the Works and Housing Minister, Samuel Atta Akyea, government has replaced an earlier flood management project, the CONTI project, with the five-year GARID project, which is much cheaper than its predecessor.

Appearing before Parliament on Thursday to answer questions on why the Ministry has abandoned the CONTI project and on the alternative solutions being proposed, he said: "Government has secured a better alternative. This is cost-effective and will give this great nation value for money."

The GARID project will, among others, address solid waste management improvement, informal settlements upgrading, metropolitan planning, and spatial data management.

Gov't to go to court over CONTI project

The Minister said the CONTI project contract, dated 10th June, 2013 and signed between Ghana and Conti International, had a contract sum of US$593m, which was materially different from what Parliament approved in the sum of US$538m.

"The difference of US$55m cannot be traced to any justifiable expenditure, particularly against the backdrop that the estimates were computed without proper and adequate engineering drawings, designs and bills of quantities," he said.
"Two years and four months after Parliamentary approval, the original Export-Import Bank of the United States of America component of US$538m has been reduced to US$280m, and the Standard Chartered Bank component of US$125m has been abandoned under a new arrangement of phasing out or restructuring this turnkey project, post-parliamentary approval," he added.

He argued that the material differences in contract sums cannot be justified, hence government's decision to go to court on the matter.

The Minister maintained that Parliament at the time did not have the full complement of the feasibility report and the bills of quantities to inform the quantum of loans it approved.

"If you pay regard to the scope of work of the GARID project and you measure it with CONTI, you realise that this is a marked improvement on CONTI," he insisted.