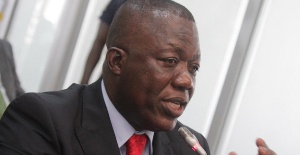 John Alexander Ackon, outgoing Ashanti regional minister and acting Chief Executive Officer of the Kumasi Metropolitan Assembly (KMA), has urged his successor to focus on clamping down on the Fulani menace, armed robbery, and illegal, small-scale mining, popularly known as 'galamsey'.
According to him, these and a few others are the main issues confronting the region and require the immediate attention of the incoming government.

It would be recalled that over the past year, tensions between Fulani herdsmen and farmers in parts of the Ashanti and Eastern regions reached a high, resulting in clashes.

Speaking in an interview on Accra100.5FM on Monday January 2, Mr Ackon said: "The Agogo Fulani menace is there, Obuasi galamsey is also there. These are issues confronting the region. There is also armed robbery, but we did our best to deal with the challenges."
He further stated that he had no regret serving as the regional minister under President John Mahama.

"I have no regret, because we are capable of coming back to power," he said.