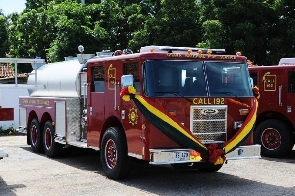 The Assistant Fire Officer of Bechem Fire Station, Bechem Fire Station of the Ghana National Fire Service in the Tano South Municipality of the Ahafo Region, ADO 1 Clifford Ashie Teiko, has advised Ghanaians to call their local numbers for emergency assistance when there is an outbreak.
He explained that when members of the public dial 192 and 112, several procedures are followed before fire officers are dispatched to the scene of the fire.

"When you dial our emergency numbers, they are routed to our fire master control centre in Accra. We must then identify the address of the fire in order to determine its location.

"Following that, the regional control where the outbreak occurred is contacted, and it goes through the channel to the district fire control, where the officers are deployed in less than a minute. However, you should be aware that these procedures are in place to ensure that officers are dispatched to the exact location of the fire."

He also criticised those who prefer to call individual fire officers rather than the emergency numbers simply because they are friends or have a close relationship.
He stated that when you call the person, he or she may be engaged in an activity and thus unable to respond to your calls.

"It is prudent to call our emergency numbers," he said. Do not dial the numbers of your officer friends. They could be preoccupied or attending to other important matters. That is why each local fire station has a number, which we always display. As a result, always dial our emergency numbers. You should also know the phone numbers for your local fire stations in case of an emergency."

He also advised Ghanaians to call the GNFS in all emergency situations, particularly road crashes, because they have the resources to respond to accident cases, including trapped victims.

"Many Ghanaians are unaware that we have the resources to handle accident cases and other emergencies. When there is an accident, we are the first point of contact, but some people believe it should be the police. We have the resources to help trapped victims at accident scenes. So I would encourage the public to take note of these things and call us when they see emergencies, not just fires."