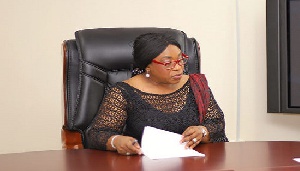 The Minister for Foreign Affairs and Regional Integration, Shirley Ayorkor Botchwey has described the late former United Nations Secretary-General, Kofi Annan as an embodiment of the best of Ghanaian values, culture and foreign policy.
According to her, even as an international civil servant and a consummate professional at that, Mr. Annan's "neutrality" in the discharge of duties at the UN was a sine qua non, though he was not an orphan of the world but one with deep roots in Ghana.

Speaking on the topic "Kofi Annan's role in Ghana's International Diplomacy" in Accra over the weekend, the Minister maintained that Kofi Annan's activity in the UN System dovetailed into Ghana's international diplomatic aspirations, especially in the quest for peace and security, as well as a more equitable global order and therefore positioned Ghana as a centre for diplomatic excellence.

The Minister was speaking at a Celebratory Seminar organised by the Kofi Annan International Peacekeeping Training Centre (KAIPTC) in memory of the late former UN boss. It was on the theme "Celebrating Kofi Annan, a world class statesman".

Paying tribute to Mr Annan's legacy, the Foreign Minister recalled that some of Kofi Annan's most well-known accomplishments such as his issuance of a five-point Call to Action in April 2001 to address the HIV/AIDS pandemic and his proposal to create a Global AIDS and Health Fund, agreed with Ghana/Africa's interests.

On his becoming the first and only Ghanaian to have won the Nobel Peace Prize, the Minister expressed the hope that current and future generations of Ghanaians, especially its diplomats, will continue to draw much inspiration from the achievements which portrayed Ghana as a "peace loving country".


Other speakers at the Seminar included the United Nations Resident Coordinator in Ghana, Amb. Christine Evans-Klock, Amb. Patrick Hayford from the UN Headquarters and the Commandant of the KAIPTC, Air Vice-Marshal Griffiths S. Evans,

The week-long funeral activities towards the final internment of Mr Annan's body has commenced and is expected to be climaxed this weekend.