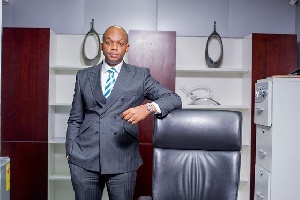 Former Managers of Unibank Ghana Limited are considering an option of arbitration following a takeover by the Bank of Ghana which has appointed accounting firm KPMG as administrators to prevent the bank from collapse.
Legal Advisor for the Unibank Dr Domnic Ayine according to a reuters.com report is quoted as saying "We intend to go for arbitration"

Ghanaian-owned Unibank according to the Bank of Ghana, relied extensively on liquidity support – over 2.2 billion cedis ($498 million) – from the Bank of Ghana over the past two years to meet its recurring liabilities among other violations.

The Bank of Ghana moved in to take over the management of Unibank "to protect depositors' funds".

The Bank of Ghana earlier this week announced that it has appointed audit firm, KPMG as administrator for uniBank taking over the assets and management of the bank.

The Bank of Ghana, therefore, assured members of the public who have deposits at Unibank to harbour no fear or panic over the announcement of the takeover of the Bank assuring the General public that the takeover, actually, was to protect their deposits and was assuring the public to be calm.
The Bank of Ghana Governor addressing the media said: "The Bank of Ghana takes this opportunity to reassure customers of UniBank that all deposits they have with UniBank are, and will remain, safe and that they can continue to do business at any of its branches."

"NO DEPOSITOR OF THE BANK WILL LOSE ANY MONEY (sic)", the written statement analyzed by MYNEWSGH.com indicated.

According to the Governor of the Bank of Ghana, Dr. Ernest Addison uniBank is currently insolvent.

Dr. Ernest Addison at a press conference stated KPMG has been appointed to manage the bank to save it from collapse.

"Allowing the continuation of UniBank's activities in their current form would be detrimental to the interests of depositors and the banking system as a whole. Several attempts by the Bank of Ghana to work together with management and shareholders of the bank to address the capital deficiency and liquidity challenges have failed to achieve the desired outcome, making the continuous reliance on Bank of Ghana for liquidity support unsustainable.", he said.