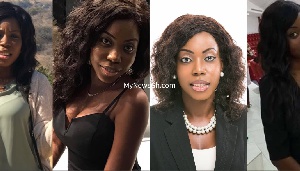 A former Miss Ghana Finalist and Secretary of the University of Ghana Students Representative Council (SRC), Janet Maame Serwaa Arkorful-Awotwe has been attacked by robbers, MyNewsGh.com has learnt.
The report, first filed by Legon's UGfile.com said the distinguished immediate-past SRC Secretary for the premier University was attacked by a knife-wielding robber on the dawn of Friday, 11th January 2019 at her residence at Baatsona, Spintex road.

Maame Serwaa, affectionately called the "Flower Girl" rose to fame first as a Miss Ghana Finalist in 2013 and later in 2017, was elected the first Nursing student SRC Executive in University of Ghana history.

Narrating her ordeal on her Facebook timeline, the former Nursing School student leader popularly known as "the flower girl" said the marauder walked into her bedroom at around 4:20 am and requested for all her money after turning on the lights in the room. Overwhelmed with fear, she willingly handed him $600 dollars, GH?400.00 cedis and some uncounted notes in her purse.

Unsatisfied by his loot, the attacker then reached for her phones and instructed her to disable the passcode on her iPhone 7; a request the victim said she honoured without resistance.

In order to gain ownership of the iPhone 7, the attacker further instructed Maame Serwaa to sign out of her Apple ID. According to her, even though she was yielding to his demands, owing to the fear, she forgot her password at that point and this infuriated the determined robber. For her inability to recall the password, the attacker then threatened to scar her with his knife and leak her nudes on social media if he found any on the phone.
The victim, terrified and battered said she had no nudes on her phone and had sincerely forgotten the password as well. At this point, fiercely wielding his weapon, the hoodlum ignored her pleas and explanations and forcefully took naked shots of her and fled the scene afterward; leaving Maame Serwaa mesmerized and despaired.

He vowed to release those nude pictures to the public if she tries to use the Apple ID to track him or to report the incident.

Massive words of encouragement and support have been pouring in on social media to SRC Executive reported to be one of the most hardworking SRC Executives ever to lead Legon in recent times.

Ms Arkorful has distinguished herself in her work and is credited with bringing some transformation to the Office of the Legon SRC Secretary with the launching of the SRC YouTube channel, initiating the students association official webmail, launching a popular Instagram and twitter buzz for the students and linking the student body to the top management of the University through her videoed interviews.

She has reported the incident to the police.