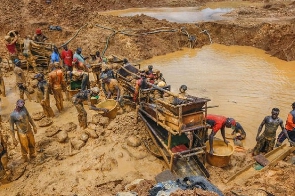 The Small-Scale Miners Association has reacted to the leaked report authored by former Environment Minister Prof. Frimpong-Boateng over the involvement of some top government officials in illegal mining.
According to General Secretary Godwin, the leaked report is not surprising because the Association collaborated with the inter-ministerial mining committee, and the allegations contained in the leaked report were made by some people.

"The report is not surprising. The names and people mentioned in the report were known to miners, and their names were mentioned, but there was no evidence to back up the claims at the time. However, if Prof. Frimpong-Biateng has included these allegations in his report, they are serious. He is not your typical person. He was the chairman of the ministerial committee. He has received several international awards, so his report is genuine. We are not surprised as an association."

Fighting galamsey is a difficult task, according to him, because it is a multifaceted problem.

He claimed that when illegal miners are apprehended, chiefs, government officials, and politicians beg for their release.

"Some highly respected lawyers are also representing these illegal miners. Dome officials, who serve as gatekeepers in our institutions, have a responsibility to be concerned and drag these illegal miners to court, prosecute them, and imprison them for 15 to 20 years as a deterrent."

He said successive governments have not been firm in dealing with illegal mining and especially when it is an election year, galamsey issues are not tackled by our leaders.
He went on to say that although we are pumping money in fighting galamsey, we have not really made significant impacts.

"We are pretending to be fighting galamsey, but we are not fighting it. People who usually try their best to fight it face opposition."

Meanwhile, he has demanded that all those named in Prof. Frimpong-Boateng's report be investigated and punished.

"The names of some people were mentioned. I propose that the government look into the matter. This must occur so that we can be assured that the government remains committed and serious."