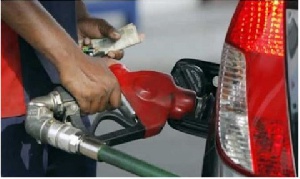 Executive Secretary of Chamber of Petroleum Consumers (COPEC), Duncan Amoah, has said fuel prices may go up in a few days if government does not devise strategic ways to face the crisis.
According to him, oil firms have added about 6 or 7 pesewas to the normal price due to the upsurge of the product on the international market.

In an interview with GhanaWeb, Mr Amoah said "I'm quite certain that by the 15, 16th of this month, fuel prices may have to go up again cos as we speak, oil companies have already taken the shield of some 6, 7 pesewas every litre they are selling. They are making loses to that amount and then the international market prices are also pushing upwards".

Giving solutions on how government can stop the country from facing this unfortunate incident, Mr Amoah suggested that government partners with both local and international oil producing companies to retain at least 25 percent to feed the local refineries whenever the country is hit with oil shortage.

He advised that local refineries are highly patronized to process crude in order for the country to save money instead of transporting local crude to foreign countries, specifically the United Kingdom, for the unprocessed product to be refined and then, go back to purchase it at a high rate.

"Government should consciously ensure that at least 25% of all the crude we are producing here in Ghana stays here locally to be processed so that the international price dynamics do not have to affect us too much as it is the case in most part of the middle," he stated.
His claims come on the back of the recent tension between the United States of America and Iran after the killing of Iraq's Qassem Suleimani early this month.

The attack has however had a shakeup in the global markets as a barrel of oil costs US70 dollars.

Please listen to the audio below