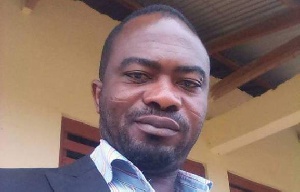 The Ghana Education Service (GES) has sacked the former headmaster of Edumanu D/A Basic School, in the Asikuma Odoben Brakwa District of the Central region, Mr Robert Seppey, and nine other teachers for breaching the code of conduct of the service.
Mr Seppey was sacked for sexual misconduct.

In January this year, a video of Mr Seppey having sex with his former pupil on a kitchen stool went viral on social media. The GES took over the investigation from the police after it was discovered the victim was not a minor and the affair was consensual.

Five other teachers were also sacked for sexual and immoral misconduct.

Three of the teachers have been convicted by the court for stealing and thus have been dismissed by the GES.

One teacher has also been convicted of defilement.

According to a statement from the GES, the teachers were made to go through due process before the punishment was handed down to them.
The under listed persons have been sanctioned for breaching aspects of the Code of Professional Conduct of the Ghana Education Service.

A) SEXUAL/IMMORAL MISCONDUCT

The following have had their appointments terminated:

i. Mr Vincent Nii Armah 0too – St. Francis SHTS, Akim Oda

ii. Mr Kester Ansah Djan – Benkum SHS, Larteh — Akuapem

iii. Mr Adjetey Anum James – Okumaning Ugars Basic, Okumaning E/R
iv. Mr Bright Akpalu – Akwatia Presby SHS, Akwatia

v. Mr William Akompong – Nyankumasi SHS, Assin Nyankumasi

vi. Mr Robert Seppey, – Adumanu D/A Basic School, Asikuma Odoben Brakwa

B) CONVICTION OF STEALING

The following were convicted of stealing by the Court and has therefore been dismissed:

i. Madam Comfort Oduro Bruce – Ghana Secondary School, Koforidua
ii. Mr Alfred Kumah – Regional Education Office, Koforidua

iii. Mr Kwasi Agyeman SDA SHS, Koforidua

CONVICTION OF DEFILEMENT

i. Mr Wiayuga Mumuni United Basic School, Tumu, Upper West

He has been dismissed from the service.

The decision was taken after they went through the due process at all levels from the school through the GES Council. This is to serve as a deterrent to others who have the intention of doing similar things.
SIGNED

CASSANDRA TWUM AMPOFO

HEAD, PUBLIC RELATIONS UNIT