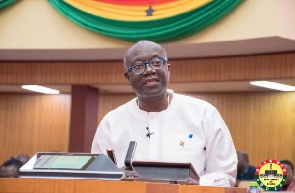 Government has secured a facility to ensure that impounded Ghana Cards stuck in bonded warehouses are released to the National Identification Authority.
The Minister of Finance Ken Ofori-Atta disclosed this to Parliament on Tuesday, February 28, 2023 when he appeared before the House.

He was in Parliament along with the NIA boss and the Electoral Commission (EC) Chairperson to respond to issues around the EC's Constitutional Instrument which is linked with the issuance of Ghana Cards.

"We have agreed to a GH¢100 million facility to ensure that the 3.2 million cards are released," Ofori-Atta told lawmakers, adding that "GH¢80 million has been deposited, and the remaining GH¢20 million will be paid by this evening."

The EC chair, taking her turn to respond to concerns by MPs justified why Ghana Cards should be made the sole document for continuous re-registration of voters, a move vehemently opposed by the Minority Caucus.
"Under the limited voters' registration process, registration was conducted at limited periods and was not done all year round. This made it such that, persons who turned 18 after the registration period could not do so after the time set for the limited registration, which usually within 2–3 weeks.

"Under the new C.I., anyone who turns 18 can simply walk into any of our district offices and register to vote. This is a departure from the previous one. The main advantage of this is that potential voters can register anytime any day. Eligible persons will be at liberty to do it at their leisure because it will be an all-year-round activity."

Reports emerged this week that the NIA had millions of blank cards stuck in a warehouse because a private company in the arrangement is owed GH¢100 million hence their refusal to release the Ghana Cards to the NIA.

SARA