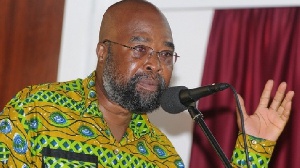 The Great Consolidated Popular Party (GCPP) has joined calls by the Convention People's Party (CPP) for a reduction in the filing fees for presidential and parliamentary aspirants, saying if the presidency is made the reserve of the rich, as, in his opinion, the situation appears to be, then an uprising could be imminent.
The Electoral Commission has pegged the filing fee at GHC50,000 for presidential nominees and GHC10,000 for parliamentary nominees.

At least 16 political parties and seven independent presidential aspirants have picked nomination forms to contest in the December 7 presidential election.

Flag bearer of the GCPP, Dr Henry Lartey, speaking to Class News, said becoming president or a legislator should not be made a preserve of the rich.
"We are waiting for them (EC) to bring down the price, it's too expensive. We can afford it but is it the correct thing to do? Abraham Lincoln said democracy of the people, by the people, and for the people. We are doing this for the people and if you create the situation where the ordinary person cannot pay to be an MP or be a president, what are we doing? Is it going to be just the preserve of the rich? Or the preserve of those in wrong businesses like cocaine money to rule us? If we continue doing that, people will be angry, get upset, then they will take the law into their own hands. If they take the law into their own hands, we are going to have a Ghanaian Spring – it will be worse than the Arab Spring. We should be very careful and not just get up and plug figures in the air," he stated.

Meanwhile, political parties and presidential aspirants are to submit their forms latest by Friday September 30.