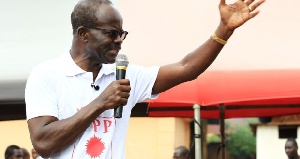 Fri, 7 Oct 2016 Source: classfmonline
The Progressive People's Party (PPP) has indicated that it is not perturbed about the court's decision to strike out its application for an interlocutory injunction against the collection of filing fees by the Electoral Commission (EC).
An Accra High Court today, Friday, October 7, dismissed the interlocutory injunction application filed by the party against the Electoral Commission in connection with the GHS 50,000 filing fee for presidential nominees.

This essentially means the filing process for presidential and parliamentary candidates can continue with the payment of the filing fees.

The court said it would give its reasons for dismissing the injunction on Monday, 10 October.

The Policy Advisor of the party, Kofi Asamoah Siaw, explained that the PPP cannot be "disappointed by the decision…" as "this is part one and part two will follow".

The court adjourned hearing to today after Thursday's hearing could not come off due to the Attorney General's absence.
The party sued the EC on September 19 over the new filing fee which it described as "discriminatory, arbitrary, capricious and unreasonable".

Apart from the GHS 50,000 fee for presidential nominees, the EC also fixed the filing fee for parliamentary aspirants at GHS 10, 000.

The PPP said although it was not seeking a reduction in the fees, it wanted a law to be put in place by which the EC would fix filing fees rather than the current situation where the fees are set "arbitrarily".

Meanwhile the substantive case on the arbitrariness of the filing fees by the electoral management body will be heard on October 11.

"The matter is not ended and even if you go and pay, this court has the capacity to take your money with interest back as the counsel for EC submitted," he told Joy FM on Friday, October 7 shortly after the verdict.
Source: classfmonline