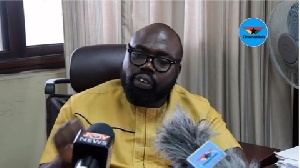 The Deputy General Secretary of the National Democratic Congress (NDC), Peter Otokunor has refuted assertions that the GHS420,000 nomination and filing fee for flag bearer aspirants of the biggest opposition party will breed corruption.
Second Deputy Speaker of Parliament, Alban Bagbin, shortly after the announcement said the GHS420,000 fee will spawn corruption.

Mr Bagbin, who is one of the aspirants told Valentina Ofori-Afriyie on Class91.3FM's 505 news programme on Thursday, 29 November that the amount opens the floodgates for corruption.

All male flag bearer aspirants of the NDC are expected to cough up GHS400,000 as filing fee while their female counterparts and persons with disability pay GHS200,000 and GHS150,000 respectively. Their nomination form is going for GHS20, 000.

In the Nadowli Kaleo MP's view, the aspirants can raise that amount, but their financiers could use it as a bait to dissipate public funds in the future.

"Any of us could try to mobilise that money because definitely, you can get in touch with people who have money to pay off, but I can tell you that is a wrong thing to do. That is the beginning of corruption that is just giving evidence to what people have been saying – 'create, loot and share'. I am not going to be part of that, I can assure you".
The seven-time MP said the decision taken by the party does not resonate with its own principles of a social democracy.

"I am not going to be part of this kind of opulence and show of extravagance, I will not be part of it, no!"

However, Mr Otokunor told Ghana Yensom on Accra100.5FM hosted by Kwabena Prah Jnr (The Don) on Friday, 30 November that: "This is not what breeds corruption, what breeds corruption is greed. Every political party needs money for party activities, we are organising an election for over 350,000 delegates across 275 constituencies and, so, we will need money to do that."

"Anyone who can't raise this money is certainly not ready to become the flag bearer of the party."

He added: "The cost of organising the elections has gone up due to the bad governance by the government".