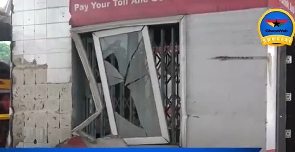 Thu, 7 Sep 2023 Source: GNA
An accident at the Accra Motorway Tollbooth at the weekend has resulted in one death and five injuries, the Ghana National Fire Service's (GNFS) Motorway Fire Station's Urban Search and Rescue team has confirmed.
The Tema GNFS Public Relations Officer, DO III Ebenezer Yenzu, told the Ghana News Agency in an interview at the Tema, that there were two separate accidents on the day, September 3, 2023.

He said the first accident happened at 0545 hours (about 3 weeks) on Sunday, involving a diesel fuel tanker with the registration number GN 7751-20 that was carrying crude and crashed into one of the closed tollbooths on the road from Accra to Tema.

According to him, the tanker was travelling towards Tema when it crashed into the toll booth, killing the driver instantly.

The driver was saved and taken to Tema General Hospital for treatment.

DOIII Yenzu emphasized that the second accident involved a DAF trailer with registration number GE1621-12 carrying an empty 40-foot container that also crashed into the toll booth at the same location about 23:45 hours the same day, trapping the driver inside.

He stated that the rescuers, under the direction of Assistant Divisional Officer Grade Two Enoch Badu Essel, contacted the Tema Regional Sub-station and the National Ambulance Service.
The three passengers who were in the truck were taken to the hospital. The stranded driver had his right limb fractured before the team managed to pull him out of the mangled vehicle.

DOIII Yanzu noted that between June 2022 and September 2023, there were 17 incidents at the tollbooths, which frequently occurred at midnight or in the evening.

He said 15 of the accidents occurred on the Tema end and two on the Accra end.

The incidents, he continued, were caused by inadequate visibility and the markings leading to the toll booth, and he called for improved warning signals and improved lighting.

Additionally, installing lamps in the direction of the toll booth might help prevent similar incidents.
Source: GNA