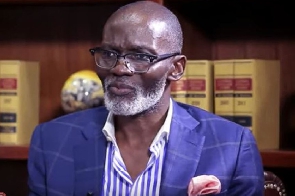 Gabby Otchere-Darko says Allotey Jacobs' suspension affects Ghana's standing on the press freedom index.
This, the founder of Danquah Institute indicated that it will be used against his uncle Nana Addo Dankwa Akufo-Addo by John Dramani Mahama, the flag bearer of the opposition National Democratic Congress.

"This is the kind of behaviour that affects Ghana's standing on the index of press freedom. Next thing you know, @JDMahama will be using it against @NAkufoAddo!" Gabby tweeted.

This tweet appears to have incurred the wrath of some section of Gabby's following, where he was chastised and described as a hypocrite.

His followers then asked if a similar suspension the ruling New Patriotic Party (NPP) gave the then party Chairman, Paul Afoko, Vice Chairman, Sammy Crabbe and General Secretary Kawbena Agyepong affected Ghana's gains on the press freedom index.

"@GabbyDarko @JDMahama and @NAkufoAddo Did Afoko and K Agyapong's suspension affect Ghana's standing on the index of Press Freedom?" a follower asked.
Another tweet read: "@GabbyDarko @JDMahama and @NAkufoAddo How are we going to call it when legally elected party executives of NPP were suspended under the watch of the party @NAkufoAddo!

Background:

Bernard Allotey Jacobs was suspended for what the NDC describes as his "persistent anti-party conduct".

A statement signed by the party's National Chairman, Samuel Ofosu-Ampofo, said the decision was taken after a meeting held today, Wednesday, May 6, 2020, by the Functional Executive Committee (FEC) of the party which acted on behalf of the party's National Executive Committee (NEC).

Allotey Jacobs's suspension takes immediate effect in accordance with "Article 46(1), 46(6) and 46(8)(b) of the party's constitution," the statement read.
"The matter has been referred to the Disciplinary Committee of the party for further action," the statement read further.

Read Gabby's tweets and some more of the replies below:


This is the kind of behaviour that affects Ghana's standing on the index of press freedom. Next thing you know, ?@JDMahama? will be using it against ?@NAkufoAddo?! pic.twitter.com/qhdlrbqNeL

— Gabby Otchere-Darko (@GabbyDarko) May 6, 2020
Did Afoko and K Agyapong's suspension affect Ghana's standing on the index of Press Freedom?

— Hope Mensah (@hopegbors) May 6, 2020
How are we going to call it when legally elected party executives of NPP were suspended under the watch of the party @NAkufoAddo ?

— Tetteh E K Joshua (@shiracflanxy) May 6, 2020
You were happy when the npp party sacked Afoko, Kwabena Agyarpong, Crabb and Wireko Brobey. NDC have just sacked only one and your are crying.

— Osogoli Yob (@osogoli) May 6, 2020
Where is Kwabena Agyapong and Afoko??? You don't have the moral right to comment on certain things.

— Only God (@ras_nunana) May 6, 2020
De Facto Prime Minister! Where's the nexus? ? How will this affect press freedom index?? U guys n ur stinking double standards!! U wanted him n u have him now so stop the pretense! Didn't u guys suspend a national chairman? ?

— Maame Efua? (@maameafuaharris) May 6, 2020
Can you compare this to what you and your zombie hudloms did to Bobie Ansa of ekosi sen .Hypocracy I believe is a craft you are struggling to earn a PhD in abi?

— daudalukman577@gmail.com (@daudalukman577) May 6, 2020
Are you now realizing such behaviours affects the country's free press freedom or you knew it before..?
I hope you remember some of the reasons giving,just because your uncle thought they were obstacles to his dream,what did he do..? pic.twitter.com/lVMJByhgxw

— danny (@dannyaslan124) May 6, 2020