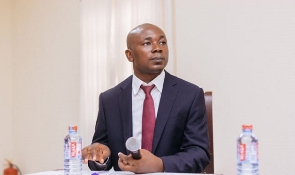 Economist and professor at the University of Ghana, Godfred Bokpin, has expressed concern over the devastating impact of illegal small-scale mining, popularly known as galamsey, on Ghana's future.
Speaking in an interview with Neat FM on April 28, 2023, he noted that the country's water bodies and forests are being destroyed, yet the government seems unconcerned.

He expressed concern about the government's lack of action toward the galamsey menace in Ghana.

"Have you seen what galamsey is doing to Ghana's future? One day will you blame external shocks? Sometime to come, when we get to a point where we have to import water, there will be someone ruling who will tell us that the reason why we are not experiencing rainfall in the various villages is because of climate change," he said.

According to Professor Bokpin, the government is by its actions and inactions, effectively giving approval to the destruction of water bodies and forests.

He added that Ghana's gold resources, which were given by God, are being stolen by a few individuals engaged in illegal mining. However, the said individuals are not paying taxes on the gold, depriving the country of much-needed revenue.

"…but we are here destroying our forest, in fact, the state has given its blessing to it, so we want to continue like this then one day, we will hold a forum and blame some external factors.
"Through this illegal mining, the gold that was given to us by God, some few people are stealing it…they are not even paying the taxes on them so that we can even use it…we are all here and nobody is saying anything, the forest that we used to see, maybe some ten to fifteen years to come, Ghana's forest will exist in textbooks, then one day we will go and blame external factors, in which country will you see this level of destruction going on right now, and can we continue to overlook this..."

His comments follow a report authored by Prof. Frimpong-Boateng, the former Chairman of the Inter-Ministerial Committee on Illegal Mining (IMCIM) in 2021, which was released containing the names of NPP officials who are allegedly hindering the fight against illegal mining.

Some of the known names mentioned in the report include the Minister for Information, Kojo Oppong-Nkrumah, Gabby Otchere-Darko, Laud Commey, Joseph Quam, and Charles Owusu among others. While they have denied any wrongdoing, some alleged that Frimpong-Boateng was equally at fault.



Meanwhile, watch the latest episode of People and Places on GhanaWeb TV below:




Watch the latest episode of The Lowdown below:






AM/SARA