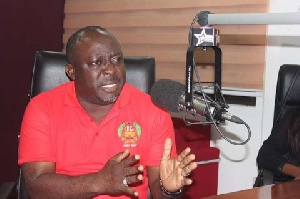 Former National Democratic Congress (NDC) Member of Parliament for Akwatia, Baba Jamal is convinced the NDC will walk over the governing New Patriotic Party (NPP) in the 2020 elections following the rejection of their policies by spare parts dealers, especially those in Abossey Okai and illegal miners.
He is confident that President Akufo Addo will lose the 2020 elections because of his abysmal performance in government.

The NDC under the leadership of Mr. John Dramani Mahama woefully lost power to the New Patriotic Party (NPP), in the December 7, 2016 elections. The NDC also lost key parliamentary seats to the NPP.

In the presidential polls, Nana Akufo-Addo beat the incumbent, then President John Mahama, with more than one million votes, polling more than 53% of total votes casts as against 44.4% for the President.
However, interacting with Accra-based Happy FM, Friday, the former deputy Information Minister, is of the firm belief that the out come of elections 2020 will be a reverse of what happened in 2016.

"The traders at Abossey Okai have already given us over 500,000 votes, galamseyers have also given us over 1,000,000 votes. The NDC is going to beat the NPP resoundingly. At the end of 2020 election if the NDC should win anything less than 55% of votes cast I'll be shocked and hugely disappointed. Any NDC Presidential candidate we present for the election will deliver victory for the party, we want to move up to 60% of votes cast that's why we're presenting John Mahama. Even if Stephen Atubiga should lead the NDC as Flagbearer he'll beat Nana Akufo Addo by about 52%. Ghanaians are really struggling, the economic hardship is really devastating people. We can't afford to keep the NPP in power beyond 2020", he noted.

He added "Akufo Addo will certainly lose by a margin of 55%. It could even increase because he continues to create problems for the citizenry. He's now even trying to enslave Ghanaians by going in for a hundred-year loan. He should not be allowed to stay beyond his first term."