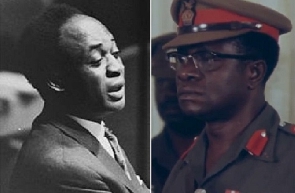 Historian and lawyer, Dr. Anokye Frimpong has given a historical masterclass about how Osagyefo Kwame Nkrumah earned the unalloyed loyalty of one-time coup leader Col. Ignatius Kutu Acheampong.
The historian detailed that young Acheampong's enlistment to the then colonial army was threatened on the day of commissioning but for the intervention of the Osagyefo at the parade grounds.

"In the early 50s when Acheampong was training to be enlisted into the army, on the day that they were to be commissioned, the colonial administration for whatever reason put aside Acheampong and decided not to enlist him.

"Kwame Nkrumah was at the parade grounds, he went straight to the young Acheampong and asked why he was sitting alone when his colleague had lined up, to which Acheampong replied to the effect that the white man said he was not fit to be in the army."

Records available to GhanaWeb shows that Acheampong was commissioned into the army in 1959, by which time Nkrumah was president.

He continued his narration on the GTV Breakfast show, that Nkrumah approached the colonial leaders of the army and told them that until Acheampong had joined the parade, nobody will join the army, after jaw-jaw, he was called to join the parade.
Historian Frimpong emphasized that this incident was at the heart of Acheampong's loyalty to Nkrumah through his days as Prime Minister to elected president and long after his overthrow.

"This man said to himself that I will always do whatever that is necessary to acknowledge what Nkrumah has done for him."

Acheampong leads bloodless coup:

Acheampong led a bloodless coup d'état that overthrew the elected government of the Progress Party led by Dr Kofi Busia on 13 January 1972.

He assumed the position of head of state and chairman of the National Redemption Council (NRC), which was later transformed into the Supreme Military Council on 9 October 1975, with Colonel Acheampong (promoted to General) as its chairman.
The historian narrated how Acheampong led the coup that overthrew Nkrumah partly because of the then administration stone-wall approach to Guinean request for herbs in the Nzema area to treat exiled and ailing Nkrumah after a condition he developed post the Kulungungu bombing episode.

"When they (Acheampong) heard of that his master, his father and friend was seriously ill and needed to be brought home for treatment, he quickly sent disco and that was when Busia was away on a medical checkup and succeeded."

Acheampong, he revealed named his junta the 'National Redemption Council,' with the middle word being in respect of Nkrumah – Osagyefo means redeemer.

The new junta leader sent Nkrumah's medical doctor son, Francis Nkrumah to check on the health of his father but he reported that Nkrumah could not come back to Ghana given the state of his health, attesting that he will die in few months.


"Busia will go down in history as a very BRILLIANT SCHOLAR who FAILED MISERABLY in terms of politics" - Lawyer Anokye Frimpong, Historian.

Today's history lesson is ready, enjoy. pic.twitter.com/dNBmrAHXRQ

— Kafui Dey (@KafuiDey) May 23, 2023
You can also watch the latest episode of People & Places:
Meanwhile, watch the latest episode of SayItLoud on GhanaWeb TV below:








SARA