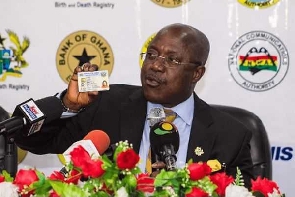 The National Identification Authority (NIA) has formally reacted to a Facebook post by Prof. Ransford Gyampo of the Political Science Department of the University of Ghana.
In the said post dated February 25, 2023; the professor set out to share "Some Thoughts on the Electoral Commission's Attempt at Introducing a New Constitutional Instrument (CI) to make Ghana Card the only Source Document for Voter Registration."

Out of his detailed nine-point write up, points five and six extensively critiqued the NIA vis-à-vis its operations with respect to dealings with the main opposition National Democratic Congress (NDC) as well as other stated operational challenges.

In its six-paged response dated March 10, 2023; the NIA accused professor Gyampo of among others, peddling "outright falsehoods, misinformation, mischaracterizations and unsubstantiated claims," in his post that went viral.

It said: "NIA's initial inclination was to ignore the post as reflecting Prof. Gyampo's inadequate appreciation of the issues about which he wrote. However, given the danger of some members of the public being misinformed, misled and/or adversely influenced by the contents of the post, NIA considers it necessary and appropriate to respond to the said post, notwithstanding the passage of time, as follows in order to address the mischief and set the records straight."

In doing so, the Authority picked six claims from the said post and explained why they were untrue, unsubstantiated and or baseless.
Below are Gyampo's six claims and NIA verdicts

1. Alleged Mistrust Between the Main Opposition Party and NIA – baseless, untrue

2. Alleged Bureaucratic Bottlenecks and Payment of GHc250.00 - wholly incorrect

3. Alleged Adverse Impact of Premium Service on Principle of Universal Adult Suffrage - completely wrong

4. Alleged Partisan Allocation of Registration Equipment - scurrilous, astonishing and false allegation
5. False Claims and Exaggerations About NIA Registration Figures – patently false

6. Alleged Lack of Adequate Resources to Print Cards of Over 3.5 Million Registered Persons - untrue

Read the full NIA response below:



Watch the new episode of The Lowdown below:


You can also watch this episode of People & Places on GhanaWeb TV here:



SARA