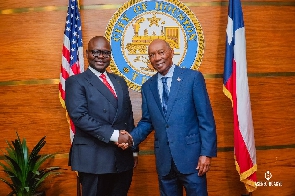 The Ghana Hydrological Authority has signed a Memorandum of Understanding (MoU) with the Harris County Flood Control District, Texas.
The MoU focuses on collaboration in information sharing regarding flood risk reduction solutions and floods resiliency and mitigation strategies.

The signing of the MoU followed an official visit to Houston by officials of the Ministry of Works and Housing and Ghana Hydrological Authority (Hydro) to among others share ideas on flood risk management strategies in Harris County and Ghana.

The delegation led by the Minister for Works and Housing, and Member of Parliament for Bantama, Honourable Francis Asenso-Boakye also paid a courtesy call on the Mayor of Houston, Mr. Sylvester Turner at the City Hall and met officials of the Harris County Housing Authority to discuss their model of affordable housing provision among others.

In a brief statement during the signing ceremony, Honourable Francis Asenso-Boakye praised the Harris County Flood Control District for blazing the trail in delivering nature-based solutions and observed that 'your approach and technology will be of great assistance to the Ministry and the Ghana Hydrological Authority in our efforts to tackle the perennial flooding challenge in Ghana'.

The Executive Director of the Harris County Flood Control District, Dr. Tina Petersen signed on behalf of the District and in the process expressed her joy at the opportunity while noting that "I have no doubt this marks the beginning of an exciting journey of collaboration and learning for our respective institutions."
The Ag. Chief Executive Officer of the Ghana Hydrological Authority, Dr. John Kissi, who signed on behalf of the Authority noted that "Ghana's Capital City, Accra, and the Harris County share common flood risk challenges and welcomed the opportunity to collaborate with the HCFCD in the exchange of knowledge related to flood resilience and nature-based solutions."

The HCFCD is a special-purpose vehicle established in 1937 by the Texas Legislature in response to floods that devasted the Houston area in 1929 and 1936 and has since been undertaking major flood mitigation projects to enhance flood resilience in Harris County.

Ghana Hydrological Authority, formerly Hydrological Services Department (HSD) was established following the passage of the Ghana Hydrological Authority Bill 2022 by Ghana's Parliament on 29 July 2022 and subsequent assent by the President on 12 September 2022.