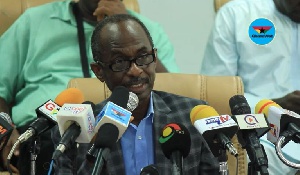 National General Secretary of the opposition National Democratic Congress (NDC) is challenging the current administration to provide details of documents to back claims former Minister of Foreign Affairs, Hanna Tetteh mortgaged the sovereignty of the state in that deal.
According to Mr Asiedu Nketia, Defense Minister Dominic Nitiwul should desist from making such unsubstantiated allegations indicating that even if the former Minister committed the country to such a pact, details are not as dangerous as the current one.

The Bimbilla lawmaker at a press conference on Wednesday said previous agreements signed including that of Hanna Tetteh in 2015 were hidden from the citizenry and therefore accused her of literally selling the country to the US.

"Two years ago, Hanna Tetteh sold us, not us. In 1998, they sold us," Mr Nitiwul said.

Mr Nitiwul who mounted a spirited defense on the pact currently before parliament for consideration also denied the claim the US government was establishing a military base in Ghana but was quick to add that the state stands a chance of benefitting from $20million from the collaboration.

Mr Asiedu Nketia on Accra-based Okay Fm observed that even if Hanna Tetteh contracted such an agreement, the benefits compared to the current one are and could never be the same.

"They should stop making the noise and give us the documents which proved that Hanna Tetteh as Foreign Minister sold Ghana", he challenged.
He maintained that details of the current agreement is a recipe for inviting terrorist groups into the country and the early parliament takes a second look at it the better for the peace of the country.



"What the government of Ghana is about to do is just allowing terrorism in the country because the US is noted for courting such things and so bringing them into our country means you are only promoting terrorism and risking the lives of Ghanaians," he said.



"Our MPs should not encourage such a move because it won't work. They should rise up in arms against the move," he urged on Accra based Okay FM.