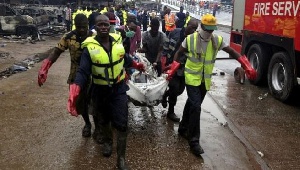 Today marks the third anniversary of the June 3, twin disaster.
In the middle of a heavy flooding and rainstorm mid-night Wednesday, June 3 2015, an explosion at Kwame Nkrumah Circle Branch of the GOIL filling station in the capital Accra, killed at least 150 people that plunged the whole nation into an official three-day national mourning.

The streets of the capital from the accident scene were littered with bodies while some were found in drains taking authorities weeks to clear the remnants of the disaster.

The morgues were congested with bodies and hospital authorities were overwhelmed with casualties from Ghana's worst ever disaster that happened on June 3.
The incident which happened in 2015 has imprints of sadness, and sorrow till date and likely to leave indelible scars in the minds of Ghanaians.

Meanwhile, survivors of the 2015 fire and flood disasters have called on government to go to their aid as life after the horrific incident has been difficult.