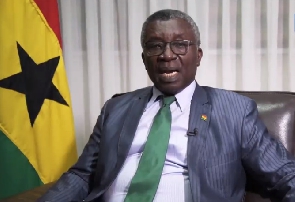 Former environment minister, Prof. Kwabena Frimpong-Boateng has lamented the developmental challenges that Ghana continues to face decades after independence.
The revered medic and academician traces the challenges Ghana faces back to 1966 when the First Republican constitution was overthrown.

"Ghana has not done as well as it should have done since President Kwame Nkrumah was unconstitutionally ousted from office through a military coup by the National Liberation Council on February 24, 1966," he wrote in an open letter to The Future President of Ghana.

"Ghana has had three other interruptions of governments. The present 4th Republic, dominated by the National Democratic Congress (NDC) and the New Patriotic Party (NPP), has not brought the transformational change that will put the country on path of sustainable development and prosperity for its people," he added.

In the letter, he stated that the challenges Ghana faces today is more important than the pre-1957 struggle for liberation from the British colonial government, stresing that it will require a resolute breed of leaders to achieve that.

"I dare say that the fight ahead of Ghana is greater than the fight for political independence and it cannot be won with leaders who lack the zeal, commitment, conviction to confront their own demons and other forces and headwinds that are against the development of the country," he added.
He cited the instance of three global giants to illustrate how Ghana can make a much-needed turnaround - the three were Singapore, China and the United States of America.

He tasked the Future President to take necessary steps to ameliorate the suffering that citizens were experiencing.

"Finally Mr. Future President, I believe that the greatest asset of a nation is the trust and confidence of its people. This should, however, not be taken for granted.

"Leadership must also fight for this great asset by working hard with even-handedness for the people in all honesty. This asset has been and still is being squandered through misgovernment and corruption to the extent that leaders are not trusted and citizens do not see that they have a stake in their country and its future.

"Most Ghanaians do not see any virtue in working for the future of their country. Our leaders have not been able to invoke in the citizens the spirit of nation building. Mr. Future President how are you going to rectify this situation?" his letter concluded.
SARA

Click here to start the nomination process for the 2023 GhanaWeb Excellence Awards

Ghana's leading digital news platform, GhanaWeb, in conjunction with the Korle-Bu Teaching Hospital, is embarking on an aggressive campaign which is geared towards ensuring that parliament passes comprehensive legislation to guide organ harvesting, organ donation, and organ transplantation in the country.

Watch a GhanaWeb Special with Etsey Atisu as he speaks to young artist Enil Art




You can also watch the latest episode of Everyday People on GhanaWeb TV below:





Share your news stories and ideas with GhanaWeb


To advertise with GhanaWeb