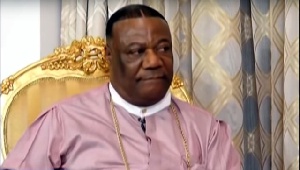 Archbishop Nicholas Duncan-Williams, Presiding Archbishop and General Overseer of the Action Chapel International (ACI) ministry, has stated that Ghana needs a leader who will submit to the power of God so that he or she can take unpopular decisions that will rescue the people from the bondage of suffering and underdevelopment.
The Archbishop maintains that there is a spiritual dimension to leadership and so leaders must submit to God's power in order to be able to deal with the challenges of a leader.

In an interview with Paul Adom-Otchere on Good Evening on Tuesday, 10th September 2019, monitored by MyNewsGh.com the man of God with international repute stressed that "we need leaders who will submit to the power of God."

For him, it is "the spirit that controls the natural" and once leaders are able to succeed spiritually, their success will manifest in the natural.
Archbishop Nicholas Duncan-Williams had received mixed reactions earlier this month when he declared that Ghanaian governments were always hell-bent on showing Ghanaians fail in business while they supported foreigners to thrive.

In the interview, he justified his assertions, arguing that there are spirits of jealousy, envy and hatred that control how we treat one another as Ghanaians, leading us to not be helpful of one another.