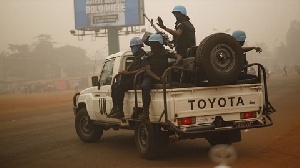 Executive Director of the African Centre for Security and Counter-Terrorism, Emmanuel Kotin, says Ghana`s name is likely to be deleted from the list of countries to contribute policemen for peacekeeping operations.
He said from discussions going on, if such a decision is taken, Ghana stands to lose huge revenue.

In an interview with Felix Cofie on the alleged sex scandal by Ghanaian Police Officers in South Sudan, Mr. Kotin said though Ghana`s name is being dragged in the mud in the international community, the country has contributed immensely towards world peace and security.

Mr. Kotin suggested that after thorough investigation into the alleged scandal, those who are found to be involved should be dismissed from the service.

Meanwhile, Security Analyst, David Agbee, says the alleged misconduct of forty-six Police officers from Ghana has dented the image of the country and the Ghana Police Service.

He said UN protocol vehemently prohibits transactional sex and the alleged misconduct by the forty-six Police Officers.
He said it could have been only one person involved in the act, but the repercussion affects the whole Service and country.

Mr. Agbee said the Commanding officers should have briefed the Police officers on the UN protocols involving peacekeeping operations.

Mr. Agbee suggested that after thorough investigation into the alleged scandal, those found culpable should be demoted. In a related development, the Police Administration has stated that it will cooperate fully with the United Nations into the allegations of sexual exploitation by the Ghanaian police unit.

The Director of Public Affairs of the Ghana Police Service, ACP David Eklu in an interview with Valerie Danso said the allegation is an isolated case and uncharacteristic of Ghanaian peace keeping units.