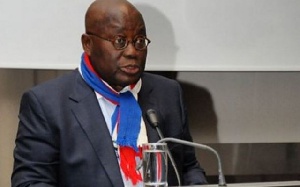 Mon, 28 Nov 2016 Source: Global Eye witness
Leaked emails intercepted by Global Eye Witness make startling revelations about leader of New Patriotic Party (NPP), the main opposition party in Ghana, Nana Addo Dankwa Akufo Addo's interaction with close confidantes.
The emails contain high-level interactions with financial contributors to the NPP's political campaigns. Some of the emails also suggest "off the record" interactions with prominent media house owners and journalists in Ghana, polling organizations among others.

One of the damaging emails suggests the leader of the opposition has actually considered relocating Ghana's national capital, Accra, a city in the Greater Accra region, to the Eastern region of Ghana. While it is not clear why the Presidential candidate of the opposition NPP may wish to move the national capital from Accra, the correspondence sought to suggest that the late father of the NPP leader, Sir Edward Akufo-Addo, first muted the idea of change of national capital. Sir Edward Akufo Addo was President of Ghana from 1970 - 1972.

In 2015 email chain, the NPP leader offered a contract to a German firm, a major donor of the NPP to build a new national capital to be cited in a location in the Eastern region of Ghana.
In another email exchange, Nana Addo Dankwa Akufo Addo confirmed to a correspondent that Mr. John Kuffour, a former President of Ghana could not be trusted because he scuttled negotiation with a major financier who was to make financial donations towards the campaigns.

Nana Addo Dankwa Akufo-Addo a lawyer and politician is the Presidential candidate for the New Patriotic Party (NPP) for the 2016 polls in Ghana. He contested and lost in Ghana's elections in 2008 and 2012. He served the cabinet of Ghana's former President John Kuffour as Attorney-General and Minister for Justice, and later as Foreign Minister. Between 1996 and 2008, he was a Member of Parliament from the Eastern region of Ghana.

Temple and Gun image Liberia with credit Global Eye witness shall release other batches of emails covering the period September 2014 to November 2016.
Source: Global Eye witness