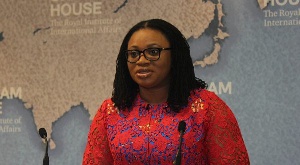 Immediate past Chairperson of the Electoral Commission, Charlotte Osei, has bemoaned the current nature of Ghana's politics, saying it is dominated by pettiness.
Speaking on the KSM Show on Metro TV, Mrs Osei said she is worried about the situation because pettiness in politics kills the national purpose and is an "unworthy distraction".

"It's always this one has done this, and this one said that, and 20 years ago this one…oh…I can't [deal with this]…

"It is not for the want of knowledge. We know better. We don't need advice. It is a choice we have made," she told Kwaku Sintim-Misa, host of the show.

Mrs Osei left the EC after disagreements with some of her deputies, and over allegations that she breached procurement laws in the award of several contracts.

Since leaving the EC top job, she has been engaged by the United Nations on numerous missions including a May 2019 appointment as an International Elections Commissioner to Afghanistan.

Speaking on the satirical KSM Show, Mrs Osei said the "rabid partisanship" in Ghana's politics is getting toxic for the future of the country's democracy.
"We are all drowning in the waters of this toxic partisanship but for some reason, we still continue. Leaders and followers alike," she observed.

She said it baffles her that the partisanship in Ghana's politics has continued for so long because it really does not benefit any particular person or group of persons.

"Really who enjoys this? Because we are avoiding the big issues and the big decisions and when everything is reduced to the level of partisan politics then we are even unsure of the decisions that are being taken because we don't know what the basis is…and it is worrying," she stated.

"I think we should be concerned. Especially for future generations," she added.

She is convinced, however, that all is not lost.

"But I do still see a glimmer of hope. With the younger ones, I see hope. I try and follow their debates on social media and I think they are less partisan," she said.