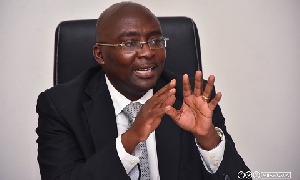 Vice President Dr. Mahamudu Bawumia says the government remains focussed on building a society that works not only for a few but everybody.
They were delivering on the promises they made to Ghanaians and that there was sufficient evidence to that effect.

"We're going to see some major changes in 2019, where we will begin full-scale operation of the Sino-hydro facility."

The Vice President announced that from next year, US$1.5 billion of the US$2 billion Sino-hydro Barter Agreement signed with the Chinese firm would be utilised.

The money would be used to build health facilities and road infrastructure - bridges, drains and interchanges.

"Apart from cleaning the mess of incompetent economic management that alone is worth in itself, and we are putting in place the structures that will enable us to deliver", he added.

Vice President Bawumia was addressing the closing ceremony of a capacity-building programme for Metropolitan, Municipal and District Chief Executives (MMDCEs) held at the Institute of Local Government Studies in Accra.
The five-day training programme was held under the theme: "Re-energising MMDCEs to deliver on Government Agenda" and brought together 254 MMDCEs across the country and some selected Regional Ministers.

They were taken through revenue mobilisation, data sharing, leadership skills, decentralisation, preparations towards the MMDCEs elections and how to implement the government's flagship initiatives.

The Vice President said they had made significant progress in the management of the economy over the past 20 months.

The macro-economic indicators had recorded impressive improvement and he made reference to the year-on-year inflation which had declined from 15.4 per cent in 2016 to 9.9 currently and the reduction of the debt to the Gross Domestic Product (GDP) ratio from 73.1 per cent to 64.4 per cent.

The economy also grew from 3.7 per cent in 2016 to 8.5 per cent at the end of 2017 and the fiscal deficit was down to 5.9 per cent from 9.3 per cent, and he said, these had come on the back of prudent management of the economy