As many people throng the family house of the late Kwadwo Asare Baffour Acheampong popularly known as Kaba to pay their last respects before his burial, a Facebook user has turned his fortunes around with the late journalist's details.
A Facebook user by the name Adu Fazebuk has revealed how Kaba made him win some money during his funeral which was held on December 16 and attended by people from all walks of life.

It appears the young man staked the lottery on the burial day of the radio icon and won some cash at the end of the day when the winning numbers were mentioned.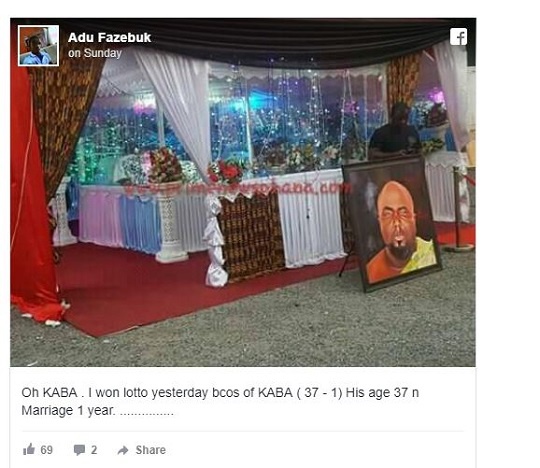 The Facebook user took to his wall and shared a picture from the burial of the late Asempa FM's "Ekosii Sen? Show host and captioned it, "Oh KABA . I won lotto yesterday bcos of KABA ( 37 - 1) His age 37 n Marriage 1 year".

Checks from the website of the National Lottery Authority confirms that two of the numbers that appeared among the 5 numbers were 37; the age at which Kwadwo Asare Baffour Acheampong died and 1; the number of years he was married until his demise.
The popular radio personality was survived by his wife, Valentina and their little daughter.

His funeral which was held on December 16 saw attendance from many people including government officials, high ranking staff of the Multimedia Group, his colleagues and many well-wishers and sympathisers.