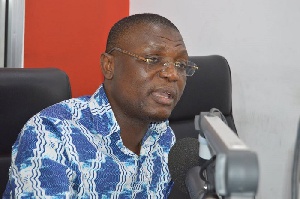 National Organiser of the National Democratic Congress (NDC), Kofi Adams has described the results of the 2016 General Elections as unfortunate, saying Ghanaians bought falsehood.
According to him, the NPP did well by promising above what is achievable but Ghanaians refused to see the lies and patronized it by voting for the New Patriotic party (NPP).

"People will soon miss President Mahama because the NPP will not be able to deliver on its promises", he said on Asempa on Monday afternoon.

Kofi Adams who doubled as the 2016 election campaign manager for the NDC has been blamed by some figures in the party for the party's defeat but his justification is that Ghanaians rather believed in the over ambitious non achievable promises by the NPP instead of the truth by the NDC.

The NDC National Organiser emphasized that the biggest mistake Ghanaians have made is to have voted out President Mahama and the NDC.
"Even after the defeat, he has been given a top job at ECOWAS because of the sterling leadership he offered Ghana. I know that he will be missed because the NPP is bound to fail", he pointed out.

He believes the Nana Addo Dankwa Akufo Addo, flagbearer can only deliver if he continues the work started by President Mahama because his vision was to make Ghana the centre of attraction in Africa.

Kofi Adams prayed that Ghana under Nana Addo becomes better because he wants the best for Ghana.