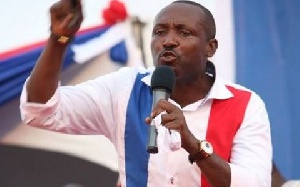 The New Patriotic Party (NPP) has called on Ghanaians, especially Christians, to take advantage of the Christmas season show love and care to the needy in society.
Such act of kindness, the party said, gives real meaning to the essence of Christmas.

"Christianity teaches us that today is not just a day for celebration. We should therefore not forget of the plight of our underprivileged brothers and sisters," it explained.

A Christmas message from the party signed by its General Secretary John Boadu, said the economic milestone achieved by the government in two years gives Ghanaians cause to celebrate for this Christmas.

"Government has also made significant strides in the economic front and is on track to exiting the IMF program successfully after being in office for just two years among other giant economic feats as observed by the IMF boss in her recent visit to the country," it added.

These milestones, the NPP said, should give Ghanaians the greatest assurance that Ghana is on the path of economic transformation and prosperity in the coming years as evident in the 2019 budget.
"Certainly, Ghanaians, in the light of this, have everything to celebrate in this festive season and beyond" it said.

The NPP has meanwhile called on Ghanaians not to compromise their personal security as they celebrate this year's Christmas.

The party observed there are usually rising incidents of road accidents, crime rates among other crimes during the Christmas season.

"While calling on the police and relevant authorities to step up their efforts at forestalling such occurrences, we also think that, as individual citizens, we should not compromise on our personal security," the NPP advised.

Notwithstanding, it said the government has put in a lot to ensure that there is an incident-free yuletide.