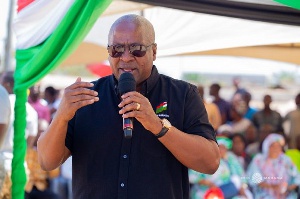 Every sector of the economy is now suffering from the economic mismanagement of the government of the New Patriotic Party (NPP) former President John Dramani Mahama has said.
He said the economic mismanagement by the Akufo-Addo-led administration has brought untold hardship on teachers, drivers, traders, farmers and public sector workers, among others.

Addressing delegates of the National Democratic Congress (NDC) at Agona in the Afigya Sekyere East constituency in the Ashanti Region as part of his four-day flagbearership campaign, Mr Mahama observed that the hardship confronting Ghanaians is contrary to the lofty promises made by the NPP ahead of the 2016 elections.

"In opposition, the NPP told Ghanaians that their lives had been made miserable as they were sitting on money but were very hungry. They blamed the NDC government for everything," he said.
Mr Mahama pointed out that the promises by the NPP to give Ghanaians a comfortable life notwithstanding, many people are worse off now than they were before the last elections.

Mr Mahama has therefore urged delegates of the NDC to vote massively for him in the upcoming flagbearership race to enable him to lead the party to victory in the 2020 presidential election.

He said when elected, he will work hard to provide jobs and take steps to reduce the high cost of living in the country.