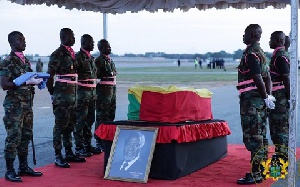 Hundreds of Ghanaians are expected to throng the Accra International Conference Centre, (AICC) to pay their last respect to the late former UN Secretary-General, Kofi Annan today.
The body of late Ghanaian diplomat arrived in Ghana yesterday from Switzerland where he died in August for a state burial and funeral service.

President Akufo Addo and other top senior government officials were at the Kotoka International Airport to receive the remains.

His remains has been laid at the AICC.

Mr. Annan was the 7th Secretary-General of the United Nations.

He was appointed as the Secretary-General on 13 December 1996 by the Security Council, and later confirmed by the General Assembly, making him the first office holder to be elected from the UN staff itself.
He was re-elected for a second term in 2001, and was succeeded as Secretary-General by Ban Ki-moon on 1 January 2007.



Kofi Atta Annan was born on 8 April 1938 in Kumasi, in the Ashanti region of Ghana.

Annan and the UN were the co-recipients of the 2001 Nobel Peace Prize.

He is the founder and chairman of the Kofi Annan Foundation, as well as chairman of The Elders, an international organization founded by Nelson Mandela.
Annan went on to study economics at Macalester College, international relations from the Graduate Institute Geneva and management at MIT. Annan joined the UN in 1962, working for the World Health Organization's Geneva office.

He went on to work in several capacities at the UN Headquarters including serving as the Under-Secretary-General for peacekeeping between March 1992 and December 1996.