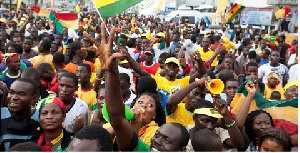 Ghanaians have been urged to lower and manage their high expectations for jobs as President Nana Addo Dankwa Akufo-Addo is now forming his government.
Mr Thomas Benarkuu, the Project Officer of MIHOSO International, a Non-Governmental Organisation, gave the advice on Monday and said no government would be able to address national challenges and satisfy the needs of the people within a short time.

Mr Benarkuu was addressing dressmakers, hairdressers, artisans, commercial drivers, market women and transport unions at a forum on the Social Public Expenditure and Financial Accountability (SPEFA) project in Sunyani.

The NGO is implementing the three-year SPEFA project in the Sunyani and Berekum municipalities which is aimed at improving citizens' perception about financial management – how the municipal and district assemblies manage and report on their resources.

SPEFA project emanated from the local Government Capacity Support Project, which was initiated by the Government and the World Bank.

Mr Benarkuu indicated that citizens would be disappointed if they over-relied on the new government for jobs hence the need for them to engage in skill and other artisanal trainings to be able to find jobs for themselves.

He asked citizens to show interest and participate actively in decision-making processes at their municipal and district assemblies.
Mr Benarkuu explained that the Local Government Act, Act 462 mandated municipal and district assemblies to organise town hall meetings at least twice a year to update the local people on the activities and operations of the assemblies.

He said the local people were expected to impress on the assemblies to organise such meetings and contribute towards fee and rates fixing and especially the judicious use of the District Assemblies Common Fund and the internally generated fund.

He said knowledge, money and wisdom were the three key indices of development, and underlined the need for the media to develop interest and track the use of funds at the local assemblies.

Mr Benarkuu observed that media plays essential role in improving quality of governance and if done effectively, it would increase citizens' empowerment.

He asserted that all the resources that duty bearers use in their daily operations in providing service are generated through taxes and grants hence citizens must develop interest and participate in local governance.