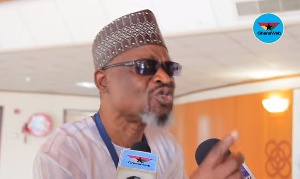 The Member of Parliament for Sagnarigu, Alhaji A.B.A Fuseini, has expressed fear that the presidency may influence an editing of the much-publicized Anas Aremeyaw Anas' ''Number 12'' investigative work.
The outspoken politician who is known for his proverbial statements described as unfortunate the decision by the investigators to allow President Akufo-Addo to watch the video.

In his view, an order may be given for some sensitive parts of the video to be edited out. ''Ghanaians are waiting eagerly to go and view it. I am hoping and praying that the sanctity of the video that Anas has, will be protected so it will come out as he had filmed it.

Let's hope and pray that, sections of it are not doctored…Ghanaians should open their eyes and ears very well and ensure that the right things are done so that people don't compromise our integrity.''

The claims allegedly made by Kwesi Nyantakyi in the video he noted has painted the presidency in a bad light but was quick to add that, the relationship between Kwesi Nyantakyi and the president spans many years and he [Nyantakyi] knows every pebble, grass at the private residence of Nana Addo.

''Kwesi Nyantakyi and President Akufo-Addo have come a long way. The FA president is one of the key supporters of Nana Addo. He was one of the generous financiers of Nana Addo…Exchanges of monies between Nana Addo and Nyantakyi is not new.

It is an open secret.'' He opined that, Nyantakyi has sponsored the president's campaign hence his claims should be well investigated. The president he indicated was implicated in the tape hence having the privilege to watch the video was in a bad taste.


The arrest of Nyantakyi he told Kwame Tutu was an attempt by the ruling government, to divert attention from the multiplicity of scandals that rocked the current administration.

The president knew about this three weeks ago and so why should he wait for three weeks to take this controversial action? ''It is an attempt to divert attention from the multiplicity of scandals that this government has been soaked in…Almost on a weekly basis, there is a scandal,'' he noted.



He quizzed if those who have been implicated in the video will have the opportunity to view the video just like the president did. ''This is a premature move that will compromise the law…It makes the matter murkier than before,'' he said.