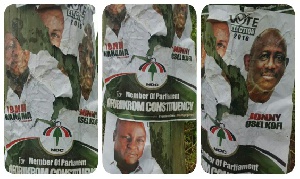 Campaign posters and billboards of President John Mahama and his Deputy Chief of Staff, Johnny Osei Kofi, at the Oforikrom constituency in Kumasi have been destroyed by some unknown persons.
According to Mr Osei Kofi who is contesting the constituency parliamentary seat on the ticket of the National Democratic Congress, posters and billboards of himself and President Mahama in Oforikrom are either defaced or ripped off by persons he described as 'ghosts'.

"A little over a month [ago], I expressed concerns about continuous destruction and defacing of my campaign posters together with the President's bill boards in my constituency (Oforikrom) in the Ashanti region," he claimed in a Facebook post.

"It's midnight and I find myself awake in the confines of my bedroom. My campaign posters are being defaced and I'm worried!" he said, adding "…we paste the posters as the ghosts remove them".

Mr Osei Kofi claimed there are some people in the constituency who appear "very uncomfortable with my participation in the elections," something he suspects is the reason for the destruction of the posters and the billboards which he said are a cost to his campaign.

"Day in and day out, [they] have been destroying my posters. They are even uprooting my sign boards and throwing them away… they just rip them off. Some of them deface it, some use other things to paint it, and so on. Some paste other posters on them, if am lucky, they leave my face on," he stated.
The Deputy Chief of Staff said although he is worried about destruction of his posters and that of President Mahama, he is at the same time happy because "it shows that some people know that the NDC in Oforikrom is a challenge.

"I understand the pain our friends feel having been up all night long pasting our posters only for some people to rip them off. I know that some few people do not want our images to be seen in the constituency, but I know God will find a way of pasting the images in the minds of the voters – even NPP voters. God is Greater," he said.

He described such practice as unlawful and expressed confidence in the security agencies to bring sanity in the way political parties and their supporters conduct their affairs in the run up to the December 7 general elections.

Mr Osei Kofi underscored the need for all to instill discipline in the body politic of the country in order to ensure that no one candidate gets his campaign materials destroyed like he is faced with currently.