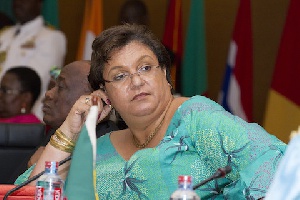 Foreign Affairs Minister Hanna Tetteh has said the two former inmates of the Guantanamo Bay cell who are being sheltered in Ghana were merely "foot soldiers" of Al-Qaeda with no potential danger to Ghana.
According to her, the two had no role in the operational functionality of the terrorist group.

Mahmoud Omar Mohammed Bin Atef,36, and Khalid Shayk Mohammed, 34 - are in Ghana at the behest of the US government. They will be in Ghana for two years at the cost of the US authorities.

Many recognizable civil society groups including, the Catholic Bishops Conference and the Christian Council of Ghana have condemned the decision by the Mahama-led administration to open Ghana's doors to them.

Government, however, insists the two pose no threat to the country as the US will help provide the necessary security support to monitor them.
Speaking on Accra-based Radio Gold Tuesday, Foreign Affairs Minister Tetteh said although Ghanaians have the right to raise concerns about their presence in the country, they should be rest assured that government has the situation under control.

"…They were low-level fighters with no operational functionality in Al-Qaeda...to put it in simple terms, they were foot soldiers of AI Qaeda… captured in the early days and put behind bars for 14 years," she explained.

The MP also dismissed suggestions that the matter should have been referred to parliament before accepting them.

"...There is no legal requirement to do so, we have an executive presidency…. Issues pertaining to national security are not discussed on the streets and on the floor of the House…it is in the interest of Ghanaians that such matters are not discussed in the open".