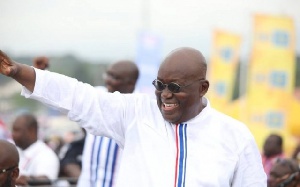 Asansan, a fan base of a media production house in the Gonjaland is strongly appealing to President-elect Nana Akufo Addo to "wipe the tears" of Gonjas by accepting a list of carefully compiled Gonja personalities for positions in his government.
"The president elect has promised to be father for all. He has promised to share the national cake equitably. ASANSAN as the voice of Gonjaland takes him by his words. Let it be reminder that, Gonjaland expect more from the President elect to wipe off their tears".

The list presented by the lobbying group and available to StarrNews included a former special aide to the president elect Mr. Samuel Jinapor, Madam Otiko Djaba National women's organizer of the NPP, Hon Boniface Saddique, Dr. Clifford Braimah a onetime Northern region scribe of the party.

The checklist also contained names of former District Chief Executives, Members of Parliament and defeated parliamentary candidates including Zakaria Yakubu, Dr Alhaji Adams Sulemana Achanso, Muhazu Seidu and Madam Veronica Alele Herming.

Leadership of the group said the above names owed the Gonjaland a service and the only way to actualize it is to be offered opportunity to be directly involved in the incoming Nana Addo-led administration.
According to the group, accepting their "fervent appeal" would restore hopes to the Gonjas who are still grieving over the electoral defeat of President Mahama, their kin.

"The message from ASANSAN to Nana Addo (President elect) is to look back to the land. Wipe our tears beginning with his appointments. We have able men and women who hold the NPP in high esteem. They have made promises to the land on your behalf.

They need our mandate to prove themselves as NPP network in Gonjaland. So we expect to see a sign of consolation from your high office in your appointments"