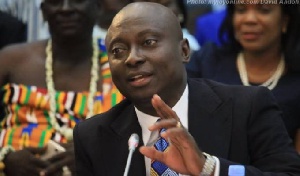 Mr Samuel Atta Akyea, the Minister of Works and Housing, has said the Government is pursuing a legislation to leverage 30 per cent of the pension funds for mortgage regime that would enable contributors to the Social Security and National Insurance Trust to secure affordable housing.
The Minister explained that using the Pension Fund for mortgage financing would reduce the interest rate on the houses to about nine per cent, which would be far better than the current commercial rate of about 30 percent.

It would also help reduce the current housing deficit of over 1.7 million and provide decent accommodation for the citizenry.

Mr Atta Akyea gave the assurance at the maiden Construction Industry Lecture, organised by the Ghana Institution of Surveyors, with some partners, in Accra, on Monday.

It was held on theme: "Ghana's Construction Industry; Yesterday, Today and Tomorrow: Towards Greater Professionalism".
The Minister explained that the high cost involved in funding one's accommodation, called for pragmatic measures to provide affordable housing to assuage the suffering of the ordinary Ghanaian.