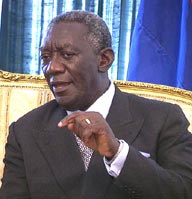 Sun, 8 Apr 2007 Source: GNA
..of the country by 2012
Abetifi (ER), April 8, GNA- President John Agyekum Kufuor has announced government's intention to double the present national electric power supply from 2000 megawatts to about 4000 megawatts within the next five years to help resolve the electricity crisis facing the nation.

He said his administration was much concerned about the current electricity shortfalls and its likely impact on the economy and was doing all it takes to resolve the problem with concrete solutions that would ensure that the problem never recurs.


Addressing a grand durbar of chiefs and people of Kwahu at Abetifi in the Eastern Region on Saturday, President Kufuor dismissed claims that government was being insensitive to the electric power problem facing the people.


He said those peddling such claims failed to inform themselves about the facts on the ground and serious actions that have gone into procuring for the nation additional energy sources so as to resolve the problem.


President Kufuor said government has since 2001 initiated a number of projects among which is the West African Gas pipeline project to help shore-up the energy needs of the country in line with the decision for accelerated industrialization.


This efforts includes a recent loan sought from the Chinese government towards the construction of the Bui Dam, which he said, would start in June this year.


He said resolving the energy crisis was part of a larger effort being made by the government towards empowering the people for improvement in their standards of living.

Complementing this effort, was the huge investments being expended in the road sector, he said and asked the people of Kwahu to continue to have faith in the Government and assist in the implementation of projects such as the Millennium Challenge Account programme, which is expected to take off in the area soon.


President Kufuor commended the people for initiating an educational fund and expressed government's support in this regard. In response to an appeal by Daasebre Akuamoah Boateng, Omanhene of Kwahu, President Kufuor directed the Ministry of Local Government to start work on proposals to elevate the Nkawkaw Township to a municipal status.


To a rapturous applause, President Kufuor also announced government decision to upgrade the faltering water system on the Kwaku ridge and rehabilitation works to be carried on the Atibie Nkawkaw road. The durbar however, suffered a setback when rains accompanied by pounding winds that suddenly erupted midway into the President's speech thus sending invited guests running helter shelter.


The rain however, did not dampen the desire of the people to launch an Educational Fund with a target of two billion cedis to help support needy but brilliant students in the area and also help improve on educational facilities in the area as leading businessmen from the area had already pledged several millions of cedis by the time the rains set in.


In a welcoming address, Daasebre Boateng expressed the joy of his people to government for acceding to their request to change the name of Afram Plains District to Kwahu North.


While commending President Kufuor for the honour he has brought to Ghana for his sterling performance on the African landscape, he reiterated the request of the people for the water problem on the ridge to be dealt with expeditiously. 08 April 2007

Source: GNA