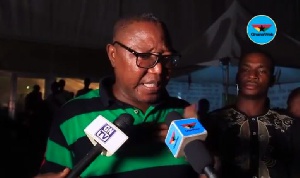 Member of Parliament for Builsa South, Dr Clement Apaak, has questioned the rationale behind the decision by government to introduce the Public Universities Bill despite the resistance from teachers.
The legislator is of the that "If the stakeholders have not complained about the current autonomous laws governing our universities, what is motivating government to initiate a process to change the way public universities are governed? Who is the change to benefit since there is no evidence of complaints from the direct stakeholders?".

Dr. Apaak says "Government control of our universities is a recipe for disaster, it will politicise our universities and kill academic freedom. The draft bill, if it ever becomes law, would be a very costly mistake with dire consequences for higher education in Ghana."

Read his full post below

Hon. Dr Clement Apaak writes:

Folks, what exactly is the Public Universities Bill 2019 (Draft) intended to address if not to grant the control of our public universities to government?

Why is the NPP government eager to fix a problem that doesn't exist? Has government received any complaints from major stakeholders in our public universities to the effect that the current laws governing them are insufficient, ineffective or incapable of ensuring the smooth running of the universities? Have Vice Chancellors complained? Have Lecturers complained? Have Students complained? Has Staff complained?
If the stakeholders have not complained about the current autonomous laws governing our universities, what is motivating government to initiate a process to change the way public universities are governed? Who is the change to benefit since there is no evidence of complaints from the direct stakeholders?

Make no mistake, the proposed bill is NOT about unified rules of governance for all public universities, or naming our public universities after worthy sons and daughters of Ghana, or having a one stop shop for applications to study in public universities or harmonising the tenure of Vice Chancellors or having same conditions and requirements for the promotion of lecturers, it's all about Government control of our public universities.

Truth is, the bill is needless and therefore cannot be justified. This is why key stakeholders, past and academics, and civil society are opposed to the very idea of such a bill.

Government control of our universities is a recipe for disaster, it will politicise our universities and kill academic freedom. The draft bill, if it ever becomes law, would be a very costly mistake with dire consequences for higher education in Ghana.

Dr. Clement Apaak

M.P, Builsa South