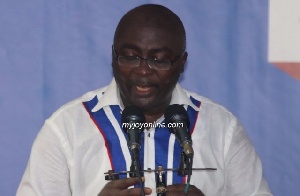 The Livelihood Empowerment Against Poverty (LEAP) program has been extended to benefit 350,000 households captured under the extreme poverty index, Vice President, Dr. Bawumia has revealed.
The program currently covers 213,000 households. That means, 137,000 households have been added to the number this year.

According to the Vice President, the government has made budgetary allocation to that effect, noting that additional number had previously been captured by the immediate past Mahaha-led government, but lack of funding prevented them from expanding the program to cover the would-be beneficiaries.

Dr. Bawumia made this disclosure at the Town Hall meeting organised by Accra based Joy FM, Monday on the Akufo Addo led- government's 100 days in office.

The Livelihood Empowerment Against Poverty (LEAP) program, is a social cash transfer programme that provides cash and health insurance to the extremely poor households across the country.
Its main aim is to alleviate short-term poverty and encourage long-term human capital development. In 2008, LEAP was launched as Ghana's flagship programme of the National Social Protection Strategy and was largely funded by the government of Ghana and supported by the World Bank and DFID. It also receives technical support from UNICEF's social protection unit.

Dr. Bawumia commenting further also revealed the establishment of the first government adult shelter to support victims of human trafficking to compliment the one for victims of domestic abuse.

The government he noted, has also established a revolving GHC 500,000 human trafficking fund.