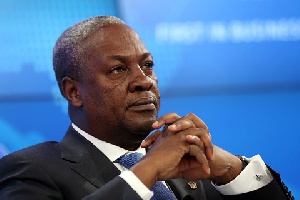 The Spokesperson of the Spare Parts Dealers Association of Ghana, Mr Takyi Addo has said in an interview whose audio MyNewsGH.com has obtained that he deeply regrets calling former President John Mahama 'incompetent' and all other names because, at the time, he didn't know what he now knows.
In an emotional interview MyNewsGh.com intercepted from Agya Yaw Obeng's Bohye FM show in Kumasi, the Spare Parts Dealers PRO said he won't hesitate to go on his knees and plead with Mahama for all the insults he led his group to heap on the former president.

"As a personal apology, wherever Mahama is, he should forgive us. I want him to also forgive me personally. We insulted him… we embarrassed him. We called him a thief, incompetent and all sort of names. We thought this one (Nana Addo) was coming to help us, but he is rather finishing us!" Takyi Addo, the Spare Parts Dealers Spokesperson said. Readers of MyNewsGH.com may find attached the audio.

Asked by Bohye FM and Gye Nyame FM Morning Show host of Ghana Te Sen,, Agya Yaw Obeng whether he wants to recall some of the insults they threw at John Mahama and whether he will kneel and beg should he find Mr Mahama, the Spare Parts dealers PRO said he wouldn't want to repeat those words they used on Mahama and his government; but that all he knows is that he has wronged God and John Mahama and needs to ask for forgiveness, referencing the fact that he grew up in a home where insulting adults was frowned upon.

For the avoidance of doubt, we at MyNewsGH.com have attached the audio to this story for clarity.

Our readers will recall that Members of the National Concerned Spare Parts Dealers Association accused President Nana Akufo-Addo and the New Patriotic Party (NPP) of delivering hardship to them after sponsoring the party with GHS200,000 to win the 2016 elections.

The same spokesperson of the group, Mr Takyi Addo, who we quoted above spoke to Moro Awudu of Class FM's Executive Breakfast Show on Tuesday, 18 September 2018, saying the group expected the Akufo-Addo government to deliver easy times, thus, their GHS200,000 campaign contribution in the lead-up to the 2016 elections but what the Akufo-Addo government has delivered is rather thick hardship that is killing them.
According to him, increases in taxes, high import charges and the inability of the government to stabilise the dollar as promised, have contributed to the untold hardships they are currently experiencing.

"The government intends to sit down with us [but] how many months now? 18 months, so, our business should collapse before the government will come in? That is the problem; the government wants our business to collapse before stepping in. No! This is unfair," he voiced out.

"That is the reason why we voted for Nana Addo Dankwa Akufo-Addo. We gave him 2 billion old [Ghana cedis]; GHS200,000 new Ghana cedis, you can check it, [it was reported on] 13th May 2016, Abossey Okai Spare Parts Dealers [gave] GHS 200,000 to Nana Addo's campaign," he emphasized.

According to the PRO: "I was there and we had our leadership at that time, they presented the money to him [Mr Akufo-Addo]. I was part of the contributors; I contributed to the Nana Addo campaign".

"I gave you money as help but you are rather killing my business [and] you want me to be happy? Helping you to come to power, protecting the ballot box, helping you financially, [with] my everything, [then] after getting the power you are rather collapsing my business? So, I should sit down and fold my arms and be watching you? No! This is unfair, we are all Ghanaians and we need to call a spade a spade. We want to tell the politicians to sit up. They shouldn't compare Ghana money to Argentina money, I didn't vote for Argentina, I voted for a Ghanaian president, period!"