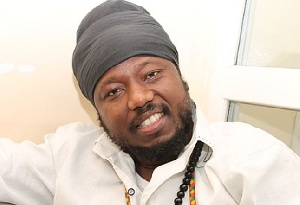 Popular radio presenter, Abubakar Ahmed, better known as Blakk Rasta has called on the Akufo-Addo led-government to set up a marijuana factory, under its "One District, One Factory" policy.
The controversial presenter was of the view that marijuana has a huge market base and abundant commercial value that could help boost the country's economy.

Sharing his view on the debate on marijuana with DJ Sly on a Sunyani-based radio, Ark FM, he suggested government take advantage of the plant which in his estimation will greatly help the economy.

"Government should put up "Marijuana Factory" in the "One District, One Factory" policy and process them into oil and even milk just like we get milk from soya," he said.
Blakk Rasta recommended that government should use preventive measures to set-up state farms for the cultivation of marijuana and its production.

"Government ought to start the process with restrictive measures from the security agencies to set-up and monitor State farms for the cultivation of marijuana," he stressed.

Blakk Rasta called on radio stations in Ghana to take it upon themselves to educate the society about the negative effects of smoking marijuana and also the economic and medical benefits of marijuana just as they do for other things.