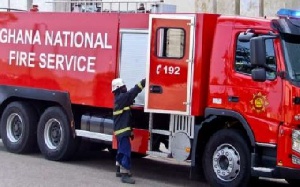 Ghana will this year take delivery of two specially tailored fire water tenders equipped with turntable ladders to fight fire in high-rise buildings in the country.
The current fire equipment of the Ghana National Fire Service can reach only the seventh floor of high-rise buildings, something that has become a headache for firefighters in the country.

The one being procured by the government for the GNFS has the capacity to reach the 15th floor of buildings, Public Relations Officer of the Service, James Oheneba Yaw Kwarteng, told Onua FM Thursday.

The procurement of the two firefighting engines form part of government's plan to retool the GNFS in order for it to be more effective in firefighting.
He revealed that payments have already been made to the manufacturer, adding a team from Ghana will soon travel to assess the progress of the two firefighting engines.

He said the government has already made payments of these two and soon, a team of fire personnel and government delegation would be dispatched to assess the two.