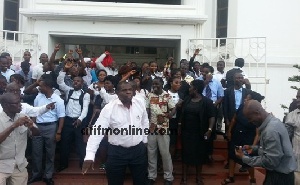 The Ministry of Employment and Labour Relations has moved in to avert a possible industrial action by the Judicial Service Staff Association of Ghana (JUSAG) in the coming days.
JUSAG has handed government an April 26 deadline to pay allowances due members or face massive protest on the streets.

This will perhaps go down as the first industrial threat handed the Akufo-Addo administration after taking over the reins of power in January.

The association is demanding outstanding allowances since October 2016 which they say has plunged members into unbearable hardship.
Speaking in an interview with Accra-based Citi FM, the Minister for Employment and Labour Relations, Ignatius Baffuor Awuah said government will begin talks with the unions next Tuesday to address their concerns.

"I have minuted that all stakeholders involved in this particular issue be brought to a round table discussion on Tuesday. I would have loved to perhaps hold it on Monday, but you'll agree with me that more and more organizations are involved-The letter itself was not addressed to us as a Ministry. It was addressed to the Chief Justice and we were copied. But that notwithstanding we still think that it will be important to invite other stakeholders to see whether the issue can be resolved amicably."
Related Articles: