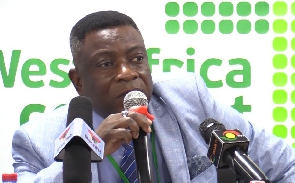 Tue, 2 May 2023 Source: GNA
Government is seeking to develop the nation's Eastern Corridor through a programme to establish industrial parks and develop agriculture at productive enclaves along the route.
Consultants from Mahindra Engineering in India have been contracted to undertake feasibility studies for the Eastern Corridor road development programme, which would also provide "special agric zones" with the aim of adding value to products from regions on the corridor.

Dr John Hawkins Asiedu, Technical Advisor of the Ministry of Trade, and Industry told the Volta Region House of Chiefs during a courtesy call, that the project formed part of the industrial transformation agenda as the Government looked to enhance the economic viability of the Eastern Corridor.

He said the foreign consultants would soon commence work on the project, and that collaborative assistance from traditional authorities would be needed to make it worthwhile.

The Technical Advisor said the development programme, funded by the African Development Bank (AfDB), would establish special agro-processing zones and would transform the agricultural sector by creating jobs, industrial parks across the corridor.

He said traditional authorities would be required to help provide lands of up to about 4,000 acres for the initiative, and that the Government had identified six other viable corridors in the country for development.
Ms. Sangeetha Umapathy of Mahindra Engineering said the feasibility component would survey products from across the Regions and how they could contribute to the special agric zones that would be established.

She said the feasibility, which would begin from the Tema Motorway Roundabout to the end of the Corridor in Kulungugu in the Upper East Region, would help identify interventions to boost raw material production, key to the success of the project.

The consultant said the project would help produce sustainable agro-industries by providing support for inputs, and equipment that would enhance raw material production to address post-harvest losses.

She said aggregation centres would be established in the various agric zones and with storage facilities including pens for livestock.

Each zone would have storage spaces for each produce as the project is designed to create advantages for farmers by ensuring fixed farm gate prices, which would help to eliminate smuggling.
The Project would also identify emerging industrial centres and develop infrastructure including roads, while a centre of excellence would be established for quality assurance, control, and other standards.

There would be programmes to support the improvement of agricultural inputs including seeds and provide mechanization centres.

The consultant assured the chiefs that the project would ensure regional balance along the Corridor and enhance agricultural production up to international levels by providing interventions including policies.

She said a value chain for all produce in Ghana would be proposed as part of the programme.

Chiefs at the House welcomed the initiative and expressed hope that it would be realised even as the construction of the Eastern corridor road remained uncompleted.
Source: GNA