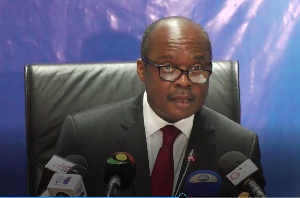 Within a period of two years, government will offload its shares in the newly created Consolidated Bank Ghana Limited, to ordinary Ghanaians.
This was made known in a communiqué from the Bank of Ghana.

To protect depositors and other customers and the financial system as a whole, the central bank revoked the licenses of five banks; uniBank, Royal Bank, Beige Bank, and Sovereign Bank, and Construction Bank, to form the Consolidated bank.

In relation to this, a statement by the Finance Minister, Ken Ofori-Atta assured that, the new Consolidated Bank, which will initially be 100 percent government owned, will be a more robust and better-managed bank, which will ensure strong indigenous Ghanaian presence in the banking sector.

"Government is interested in ensuring that the banking system is not only resilient and capable of driving the transformation agenda, but also supports the promotion and participation of strong indigenous Ghanaian banks," he added.

Towards the purchase and assumption agreement under which the Consolidated Bank Ghana Limited has acquired, the government has provided financial support through the issuance of a bond in the amount of GHS 5.76 billion.
To further strengthen the indigenous Ghanaian banking sub-sector, Ofori-Atta said government is considering various structures through which it can provide financial support to help other indigenous banks meet the new minimum capital requirement of GHS 400 million by December 31st 2018.



This support will be limited to indigenous banks that are solvent, well governed and managed and in full compliance with the Bank of Ghana's regulatory requirements, he noted.

In addition, government will continue to explore policy interventions to transform the entire financial services sector into a more resilient and dynamic industry in order to promote and establish Ghana as a regional Financial Services Centre.